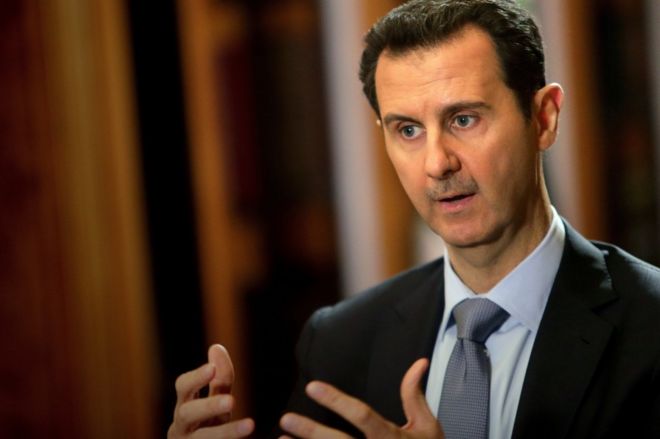 Syria's President Bashar-al Assad says reports of a chemical attack by his forces were "100% fabrication".
In an exclusive video interview with Agence France-Presse, he said "there was no order to make any attack".
More than 80 people were killed in the rebel-held town of Khan Sheikhoun on 4 April, and hundreds suffered symptoms consistent with a nerve agent.
Witnesses said they saw warplanes attack the town but Russia says a rebel depot of chemical munitions was hit.
Shocking footage showed victims – many of them children – convulsing and foaming at the mouth.
Sufferers were taken to hospitals across the border in Turkey, which opposes Mr Assad. Turkey has since said it has "concrete evidence" that the nerve agent Sarin was used.
Syria 'chemical attack': What we know
Mr Assad told the AFP news agency that the Syrian government had given up its arsenal of chemical weapons in 2013, adding "even if we have them, we wouldn't use them".
However, the US, the World Health Organization (WHO) and chemical weapons inspectors have all cast doubt on Russia and Syria's claims.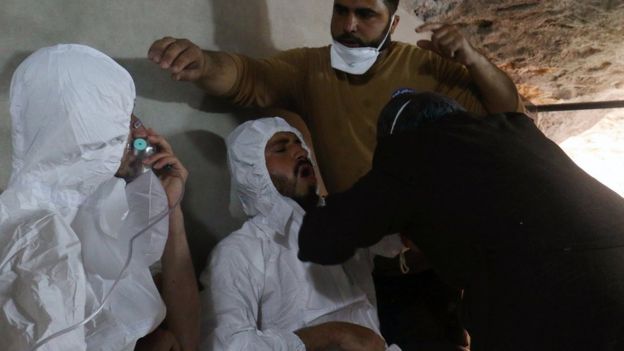 Mr Assad accused the West of making up the story so it had an excuse to carry out the strikes on a Syrian government airbase, which took place a few days after the Khan Sheikhoun attack.
"It's stage one, the play [they staged] that we saw on social network and TVs, then propaganda and then stage two, the military attack," he said, questioning the authenticity of the video footage.
Mr Assad also said that he would only allow what he called an "impartial" investigation into the events at Khan Sheikhoun, to ensure it would not be used for "politicised purposes".
Russia, Syria's key ally, angered the US, UK and France on Wednesday by vetoing a UN draft resolution that would have required Mr Assad's government to co-operate with an investigation into what happened.